Smashing & Crashing
at the Clinton Spring Fair
The Directors of the Huron Central Agriculture Society  is in full swing of planning the 2022 Clinton Spring Fair.  We are having Ambassador competition, Baby show, Demolition derby, Midway, homecraft exhibits, garden tractor pull, poultry and goat show.   We are doing the scavenger car tour and online auction.  We will be announcing  details of our new events.
The homecraft have added two new competitions-Maple Syrup and Honey competitions.
Draw Tickets Still Available
Have you ever wanted to enter the Demolition Derby but don't want to worry about getting a car ready to go?
Well we've got that opportunity for you! Enter our raffle for your chance to drive in our demolition derby for $10. We will provide a car for you to drive in the derby and cover entry fees.
Tickets are available for sale in person at Radar Auto Parts in Clinton and Brussels or Tirecraft in Clinton and Exeter. Or email Aaron Kiss at [email protected]
Disclaimer: Once the derby is over the car will be returned back to us. Impact Motorsports requires drivers to hold a valid driver's license, with minors requiring a parent or guardian as a co signer. Close toed shoes are required as well as a helmet. We can provide a helmet if need be. Full entry rules can be found at here.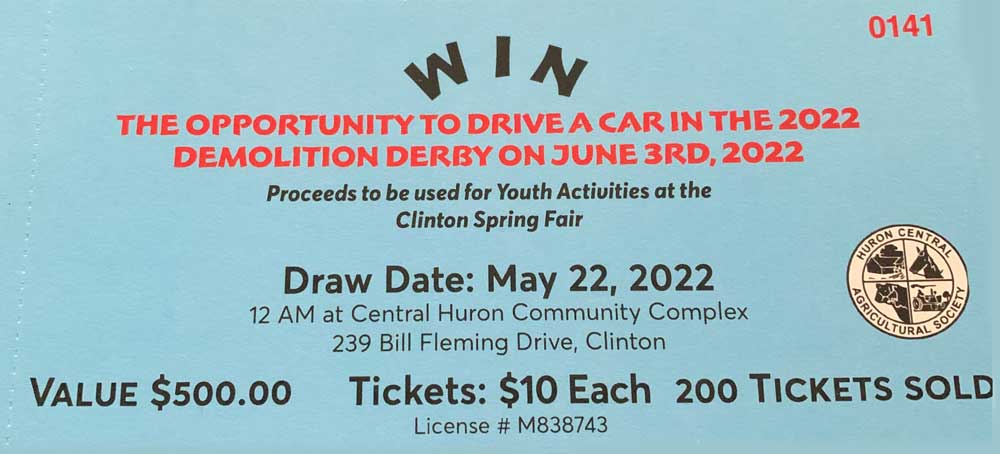 Clinton Spring Fair Events
Smashing & Crashing at the Clinton Spring Fair
Smashing & Crashing at the Clinton Spring Fair